Signatures
In Postbox, creating and editing signatures is fast easy to use. You can manage signatures within a dedicated Preferences panel, and when composing a message, signatures have a dedicated toolbar button which allows you to choose from the list of signatures that you have created. Here's how to create, configure, and use signatures in Postbox.
Creating Signatures
To create a new signature, go to:
On macOS: Preferences > Composition > Signatures
On Windows: Tools > Options > Composition > Signatures
Next, click the Add or + button to open the editor drop down. Create your signature and use the formatting buttons to style your entry. You can create additional signatures by simply clicking the Add or + button again. To edit an existing signature, click the Pencil button below the list.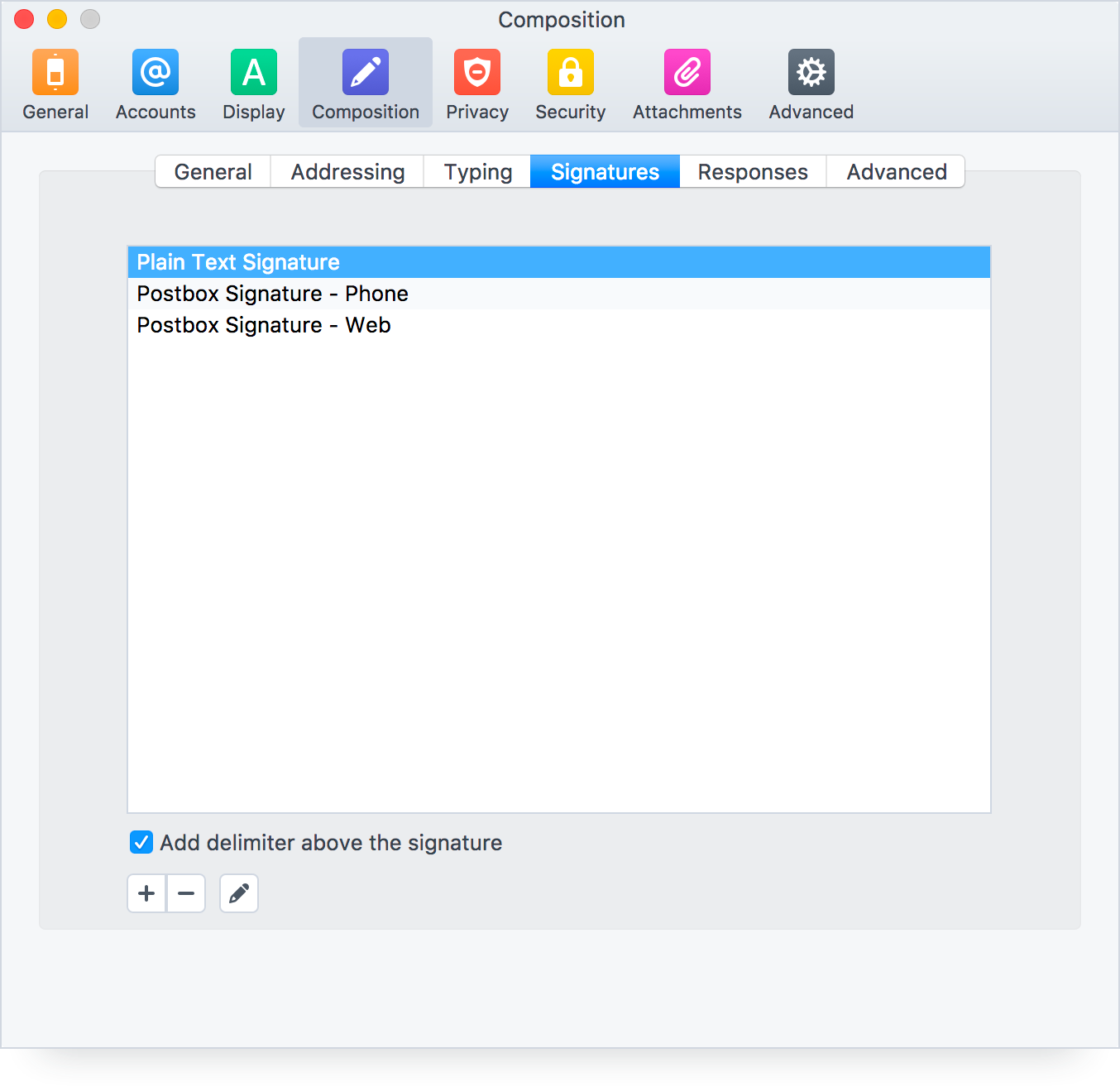 Note: To add a link to your signature as you're editing it, click the Link button and enter the URL (including "HTTP://"), and then click OK.
To further customize your signatures, Postbox offers the ability to edit the underlying HTML code. To read more, please refer to this article: Advanced Styling for Signatures
Configuring Signatures
Default Signature
Each account or identity can contain one default signature. To set this, go to
On macOS: Postbox > Preferences > Accounts > [your account] > Identity
On Windows: Tools > Options > Accounts > [your account] > Identity
Then, find the Signature option and choose an existing signature in the list. Alternatively, to customize the signature per identity, click the Manage Identities... button below.
More Signature Options
In the Composition preferences, you can further customize the signature behavior. You can find these options by going to:
On macOS: Preferences > Accounts > [your account] > Composition
On Windows: Tools > Options > Accounts > [your account] > Composition & Addressing
Here, you can control how your signature is included in replies and forwards, and determine where the signature is placed when replying. To do this, simply change the option that reads "and place my signature" to below the quote or below my reply.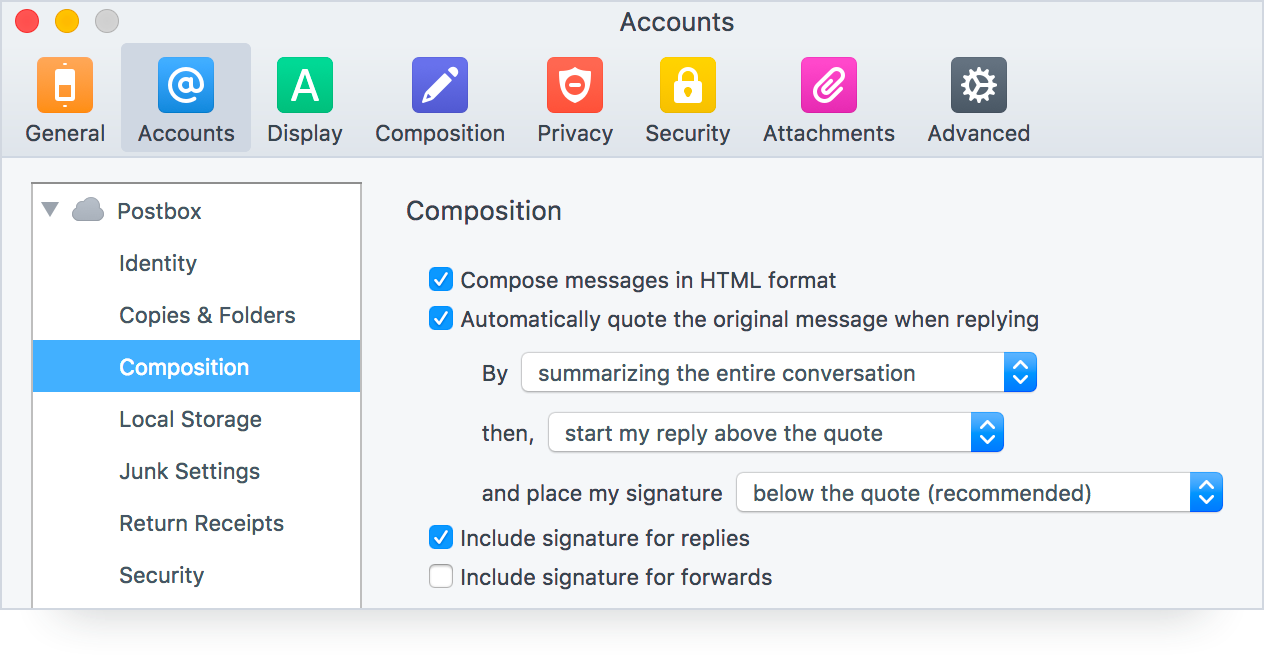 Using Signatures
Postbox will automatically use your default signature when you create a new message. Use the Signatures toolbar icon to change the default signature, or to insert a new signature if one doesn't exist.
Inserting a Signature Using the Quick Bar
When you're writing a message in the Compose window, type command-L (macOS) or ctrl-L (Windows). The Quick Bar dialog opens.
Start typing the name of the signature you want. Matching items appear as you type. To make it easy to get your hands on the thing you want, Postbox tells you whether each item is a signature, response, or topic.
If the signature you want isn't already selected, select it now with your mouse, or using your up/down arrow keys.
Hit enter on your keyboard to insert the selected signature.
Related Articles