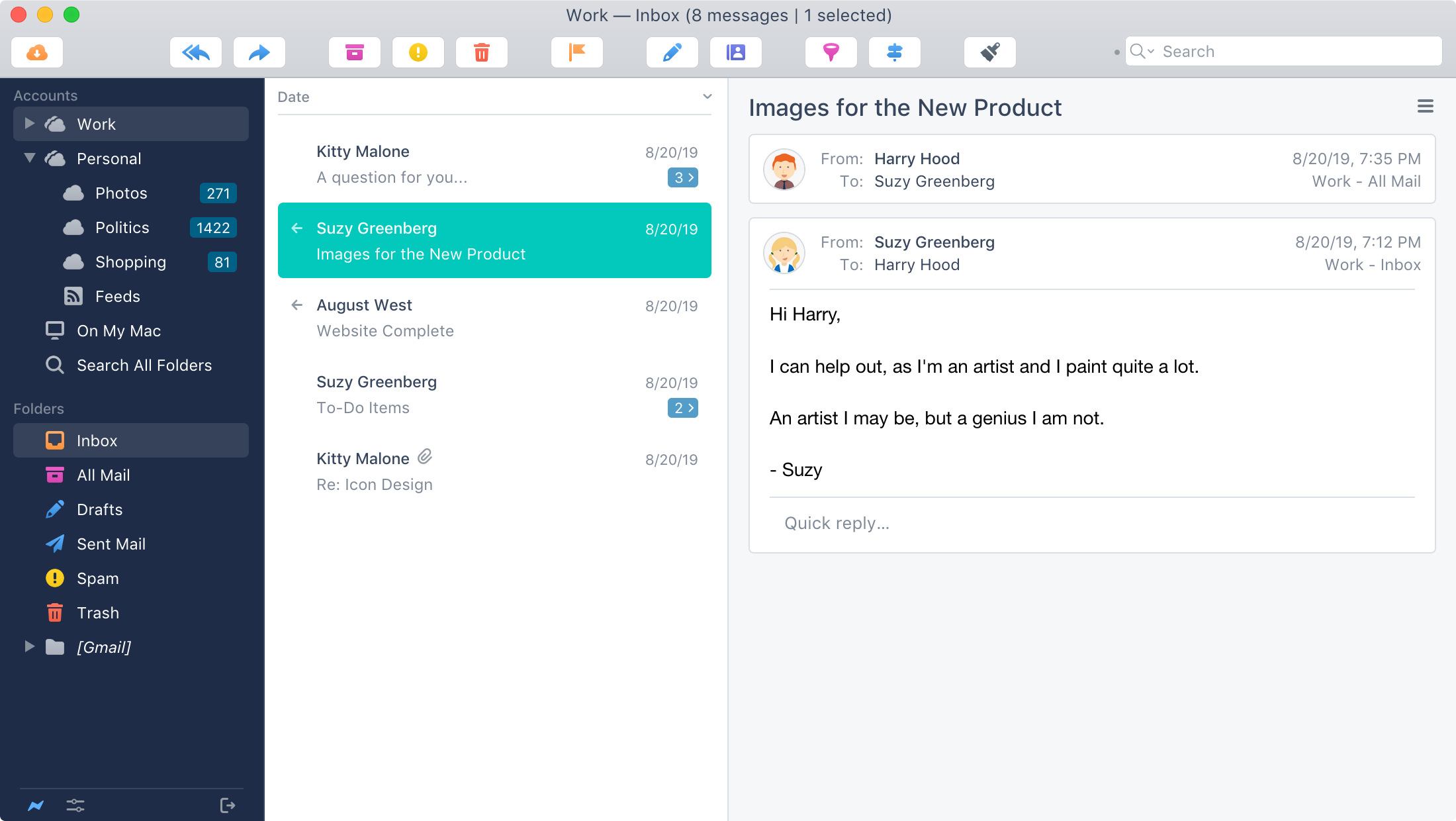 Overview
Postbox supports 24 beautiful themes across light and dark modes.
The "Theme" toolbar button will allow you to switch themes. Click the Theme button to select your desired theme. The "Default" selection will dynamically switch between the classic "Light" and "Dark" modes depending on your current OS setting.
A preview of all themes can be found here.
Implementation Notes and Limitations
Dark Mode themes are not supported when Postbox is set to compose in Plain Text. This is because plain text emails do not have HTML stylesheets that we can apply reverse luminance on in the Compose window.
The theme colors are not user-customizable, but we do provide a wide variety of themes to choose from.
Postbox implements a "true" dark theme across the preview panes, message composition window, and address book. If you are using a dark theme, you cannot compose messages with a white background. If you desire a white background, we recommend using a light theme.
You should not switch themes while you're composing messages, as the current theme has already been loaded into the composition window. If you catch yourself doing this, simply save the message as a draft, then reopen the message and it will pick up the current theme.
When using a dark theme, the composition window will display light text on a dark background. However, the light text that appears is simply a transformation we temporarily perform on the compose window. The text that will be sent will contain dark text so that the message appears normal for the recipient.
When using dark mode in the Compose window, note that we do not apply color transformations on Signatures, Responses, content that is pasted in, or text that you style with a different color. Postbox will respect the colors that are embedded in the content in these cases, similar to other email apps that support dark modes. If you find that Signatures or Responses appear as black text on a black background, then remove the color styling from your Signatures or Responses so that Postbox can perform the appropriate color transformation.