The Compose window's Contacts Sidebar provides you with convenient access to Address Book Contacts or Recent Contacts. By default, Postbox will display Recent Contacts, but you can change this setting within Preferences|Options / Composition / Addressing.
With the Contacts sidebar open, you can add contacts to a message by double-clicking the contact, by right-clicking and using the contextual menu, or by dragging it from the sidebar into the desired address field. The sidebar also supports shift-select and control/command-select so that you can insert multiple addresses at once via drag and drop or context menu.
Recent Contacts
This feature is unique in that it does not search your address book, but rather, the messages that you've sent in the past. For example, if you've been discussing the company picnic with a group of people, you can enter "picnic" in the search bar and the contacts you've emailed will appear.
Where this really gets interesting is when you're using Topics. If you have a Topic selected in the Focus Pane when you compose a new message, the Topic will not only be added to that outgoing message but will also be automatically entered into the search field within the Compose Sidebar. This will then display the contacts that you've conversed with that are associated with that Topic. It works similarly for Files and Images too.
Thus, when working within a Topic, the entire Compose window is aware of your working context.
Address Book Contacts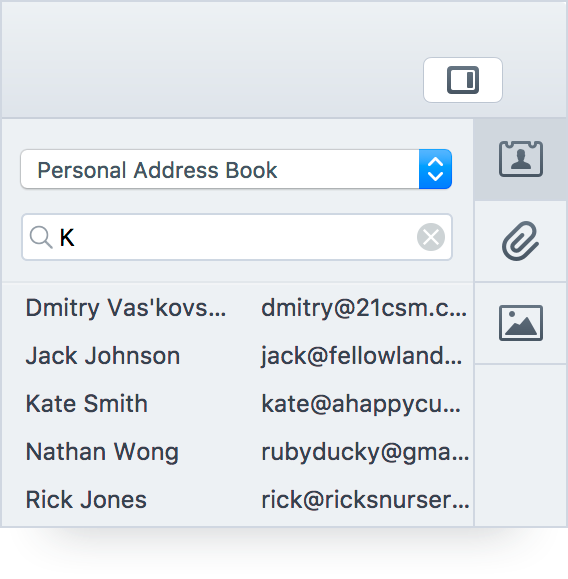 If you set Postbox up to display Address Book Contacts, then you'll have convenient access to contacts in the sidebar. Searches will include the display name and the email address. For example, if you would like to find all contacts who work at Apple, you could search using "@apple" to have all of those contacts display.