We have identified an issue on macOS that causes the following error under certain circumstances:
"An error occurred during the update. Please download and install the latest version of Postbox from our website."

Overview
We've identified a problem with Google Safe Browsing, whereby our update URL has somehow made it on to their blacklist, causing an update failure message on macOS when that app has already been updated. We've reached out to Google to discuss the issue and work towards a resolution.
How to Help the Postbox Community
You can help the Postbox Community by taking a minute to report the update URL as valid. Here's how:
Navigate to the Help menu and select Configuration Data.
Copy the entire Update URL under Application Basics.
Visit this page, paste the URL, then press the Submit button.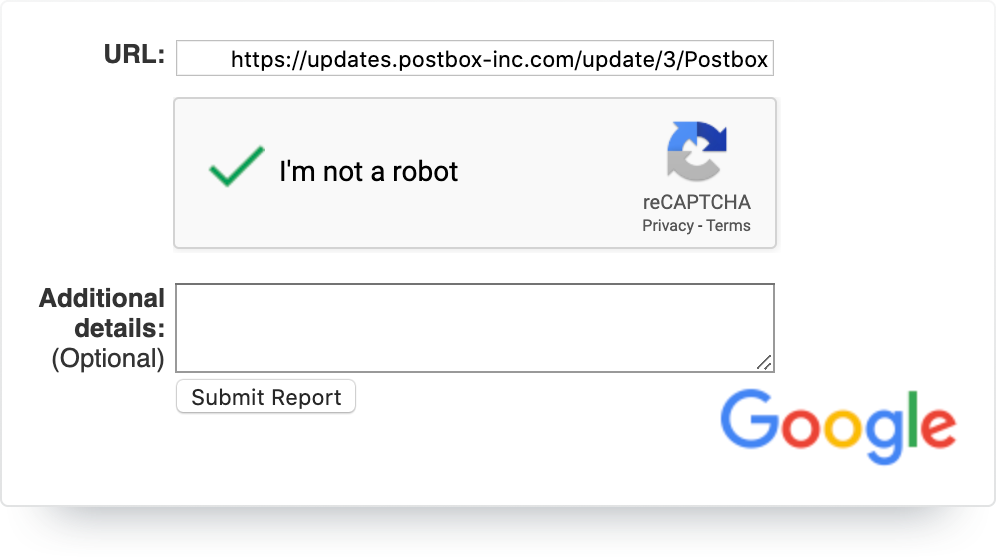 How to Keep the Error from Appearing
Until we can resolve this issue with Google there's no way of addressing the error short of disabling Safe Browsing and removing the local database of URLs. Here's how:
Navigate to Preferences > Security > E-mail Scams and disable the checkbox for "Tell me if the message I'm reading is a suspected email scam."
Quit Postbox.
In the Finder, navigate to ~ [your home directory] / Library / Caches / PostboxApp
(Note: On the Mac the Library folder is hidden. To access it, Open Finder, and hold the Shift key while clicking on the Go menu at the top of the screen. "Library" will be one of the options.)
Delete the PostboxApp folder.
Start Postbox.