About Topics
The Topics feature is one of the most powerful tools in Postbox. A topic is a type of tag for marking messages so you can quickly get to them when you need them. A Topic can be anything — a project, important client, event, a priority, or anything else that makes sense to you. Using Topics to organize messages is more efficient than using folders because:
you no longer need to make decisions on where to file a message — simply assign as many topics to it as you like, then view or search for the messages by Topic 
you don't have to continuously file new message replies to keep related messages together — Postbox automatically adds the existing Topic to related replies
Creating Topics
Postbox offers you a number of ways to create or assign Topics, but the most effective is by using the Quick Bar.
Select a message, then press the "t" key. A pop-up will display, and from here you can type a new Topic name, like "Marketing".
To create multiple Topics, separate them by a comma, such as: "Marketing, Budgets".
You can also create Topics by using the Preferences panel, located at Preferences | Options > Display > Topics.
Favorite Topics
Your Topic set can become quite large over time, so Postbox supports "Favorite Topics". This allows you to work with your most common Topics in more convenient ways, for example, within the Focus Pane.
You can mark a Topic as a Favorite within Preferences|Options > Display > Topics, or by right-clicking a Topic when displayed within the Postbox interfaces and selecting "Favorite Topic" from the pop-up menu.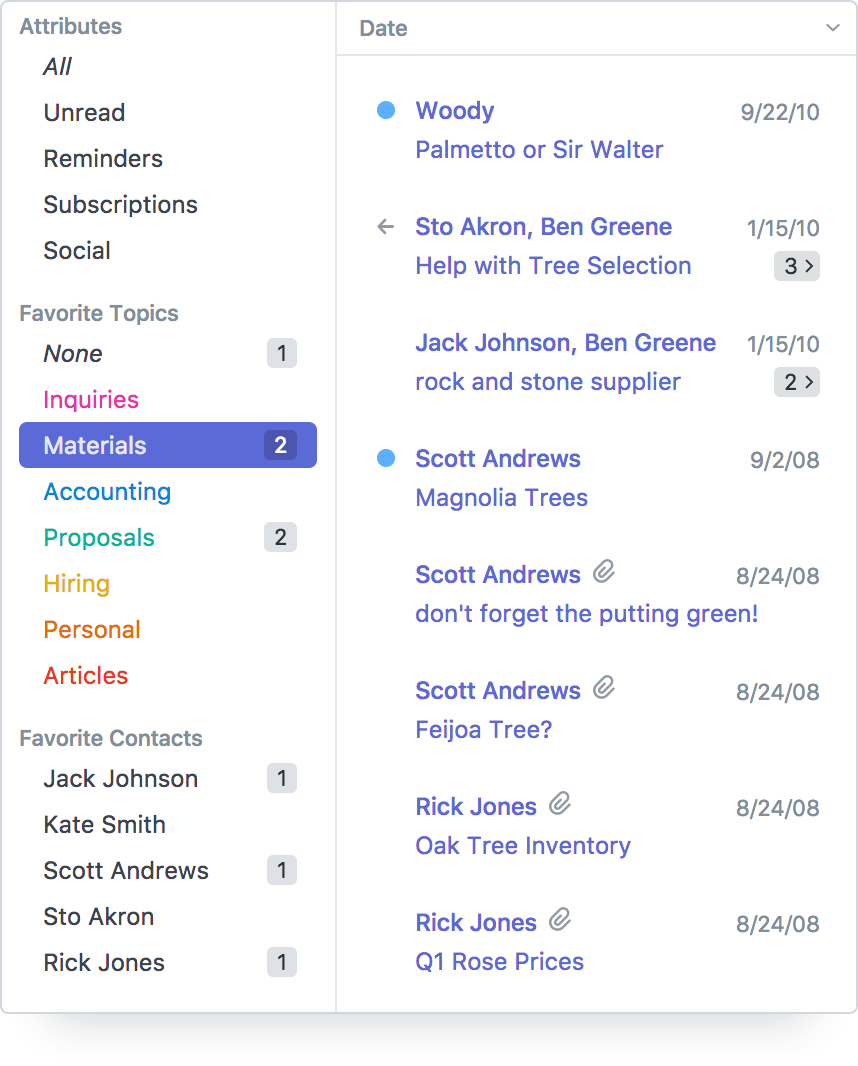 Assigning Topics
There are several ways to assign a Topic to one or more messages:
select a message and then hit the "t" key. Auto-complete within the Quick Bar pop-up
select a message then type a number key 1 through 9 to assign the first 9 topics in your Favorite Topics list
select a message and then press and hold the Topics button in the toolbar, select from your Favorites, if you've previously added the button there
select a message and then go to Message menu > Assign Topic > select from your Favorites in the menu
select a message and then right-click, select Assign Topic > select from your Favorites from the contextual menu
drag and drop a message to your Favorite Topic in the Focus Pane
Note: the only way to assign a non-Favorite Topic to a message is via the Quick Bar.
Note: When you assign a topic to a reply in a thread, Postbox automatically assigns all of the thread's future messages to that topic for you.
Editing Topics
You can customize the look and behavior of a topic by editing it. You can:
make it a Favorite Topic so it becomes visible and selectable in the Focus Pane
assign it a color
rename it
To edit a topic:
right-click the topic's oval-shaped bubble in a message and select the desired item from the popup menu
go to Preferences/Options > Display > Topics
Apply Color to Topics
Postbox allows you to set custom colors for each Topic, so which have been assigned a Topic stand out in the message list. Here's how:
To assign a color to a topic, go to Postbox > Preferences > Display > Topics. Then, select a Topic, and click the edit button at the bottom of the list (pencil icon). Finally, click the colored box next to the Topic Name, and choose a color.
If you'd like the color to apply to the entire row (and change the color of the subject, sender, etc.), check the box (in Postbox > Preferences > Display > Topics) that reads: Apply the topic color to the entire row in the message list pane.
How to Use Spotlight to on macOS to Search for Messages by Topic
Postbox allows you to use Spotlight to search for Postbox messages by Topic.  For example, you type the following into the Finder search bar: "keyword:marketing" to find all messages that have the Topic "marketing."  You can then create a Smart Folder and save it to your Finder sidebar.
To enable this functionality please perform the following steps:
Make sure the Postbox app resides in Applications folder on your Mac.
In Postbox, under Preferences > General check the "Allow Spotlight to search messages" option.
Make sure that only ONE copy of Postbox is on your hard drive or any mountable volume.  Use Spotlight to search for "Postbox" with Kind: Application to find any and all copies of the Postbox application.  If you have partitioned your drive to manage more than macOS installs, only ONE copy of Postbox can exist (otherwise Spotlight might use the wrong importer).
You must re-index your mail messages by going to Tools > Indexing > Index All Folders... You may wish to perform this last step overnight to avoid work interruptions.