How to Register Your License Key or Code
Details
Postbox is licensed by the version, e.g. 3.0, 4.0, etc. Once you purchase, you are free to use that version for as long as you like. We provide free updates within a major version, e.g. 3.0.1, 3.0.2, but upgrades to the next major version would have an upgrade fee, e.g. from 3.x to 4.x. There's no requirement to upgrade, however.
The licenses are per user, so one license will cover any/all machine(s) you personally use, Mac or PC. If more than one person will be using Postbox, then you will need additional licenses for those users. Note that we offer volume discounts starting at just two or more copies!
Instructions
First, please make sure that you are running the most current version of Postbox for which you purchased the license. Select "About Postbox" from the "Postbox" menu to determine your version number.
If you have a Postbox 4 installed, but your license is for Postbox 3, simply download and install the old version Postbox over your current installation.
To register your license key:
Within Postbox, select "License" from the "Help" menu.

Enter your name and license key *exactly* as they appear within fulfillment email we sent to you when you purchased Postbox (blank spaces and all).  If you cannot find this email, please visit this page to have one sent to you.
We highly recommend that you COPY and PASTE the values directly from your license email into the license screen! 
Incomplete or Incorrect License Entry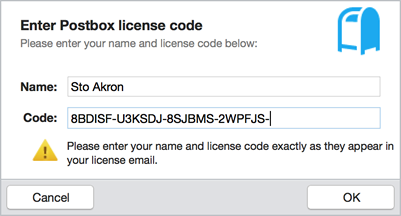 The yellow triangle icon indicates that the product is not yet registered.
Completed and Correct License Entry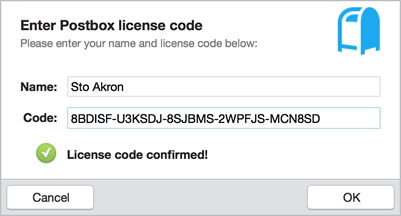 Hooray! 
Common Errors
Using Order Number as Key - People sometimes put their order number instead of the license key into the the license screen.  A number that looks like PB100221-4231-48745 is your order number, NOT your license key.  
Wrong Name - The license key is generated in part by your name.  So when entering your license key, you must enter your exact name used when purchasing Postbox.  For example, if you purchased under the name "Benjamin Franklin", you must use that exact name, and not "Ben Franklin".
Extra Spaces in Name - When purchasing Postbox, if you used extra spaces in your name, such as "George   Washington" instead of "George Washington", then you must also insert those extra spaces when you enter your license key.  The best way to avoid correct this is to simply copy your name and license key directly from the fulfillment email that we sent to you after purchasing Postbox.
Substitutions - Sometimes an O can look like an 0, or l like a 1, etc. Again, we recommend that you cut and paste the values from your license email into the license screen.
Still Stuck?
Contact the Postbox Store and we would be happy to help you out!